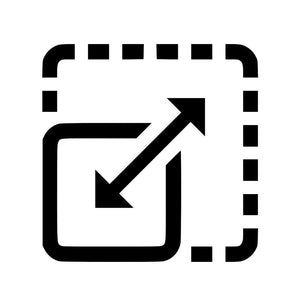 Custom (Re)Size
PLEASE NOTE: this customization will add up to a month to production (though, often sooner). Unfortunately, customized bandanas are not covered by our risk-free return policy (unless damaged or another mistake was made on our part) as they cannot be restocked. We reserve the right to decide whether a customization is feasible and cancel/refund at anytime.

Is your size out of stock, but a larger one is available? Does your pet have an unusual neck size that doesn't quite match the preset sizes? We are more than happy to work with you to get the right fit! 
If you are looking for a fully custom size (think XXXS or XXL) of an OPEN EDITION (restockable) bandana, please reach out to us here.
Otherwise, for a resizing, please:
1. Make sure a LARGER bandana (unfortunately our magic powers don't allow us to make smaller bandanas bigger) is in stock
2. Add this to your cart with the larger bandana.
3. Specify in notes which bandana(s) the resizing is for and the size you'd prefer (bandana size or your pet's neck size is fine).
4. Preferred contact info (email, Instagram, and/or text)

The trim color will default to the bandana you are re-sizing, but if you are looking for a custom color option, please find additional information here. If you'd still like to add snaps, find the listing here.
Without your notes, unfortunately your order will be delayed. We will reach out after your order to confirm the size before production.
Any other questions? Contact us here.
---
We Also Recommend
---