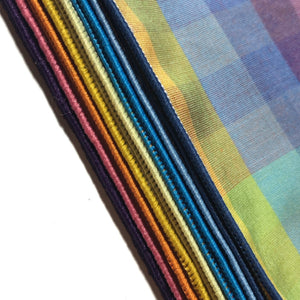 Custom Trim Color(s)
PLEASE NOTE: this customization will add up to a month to production (though, often sooner). Unfortunately, customized bandanas are not covered by our risk-free return policy (unless damaged or another mistake was made on our part) as they cannot be restocked. We reserve the right to decide whether a customization is feasible and cancel/refund at anytime.

Is the preset/default trim on a bandana not your favorite? Do you have a better idea? Are you looking for something unique or specific to match your pet's outfit or an occasion?
At our studio, we have over 40+ colors of thread at your disposal! We are happy to coordinate with you to find the best color(s) that suit your tastes.
Opt for one color for all four sides, or consider two colors (alternating or touching). Yes, we can even do up to FOUR different colors (one on each side) if it so tickles your fancy!
When placing your order, be sure to specify in notes:
1. The bandana(s) you'd like the custom trim(s) on
2. The color(s) you'd like to consider
3. Preferred contact info (email, Instagram, and/or text)
Without your notes, unfortunately your order will be delayed. After we receive your order we will contact you with your options via photos and to confirm with your final choice. If there isn't an exact color for your preferences, we can cancel and refund this customization and/or the bandana.
Any other questions? Contact us here.
---
We Also Recommend
---